Maple Shade Receives Donation of Masks from Asden Properties
Maple Shade Business Association Selling Signs to Support Front Line Workers... watch the coverage on FOX-29
https://www.fox29.com/video/679866
February 2020
The 2020 Census is accessible to everyone.  Please see below for more information or click HERE for a printable, user-friendly version.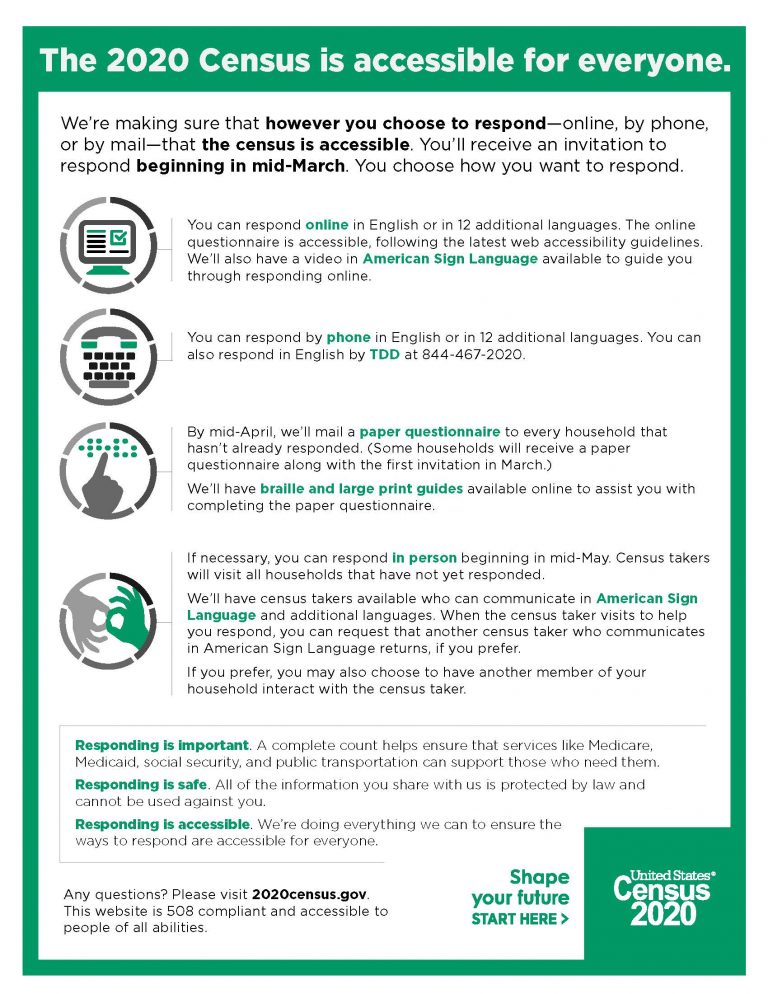 Pedestrian Crossing Signs Installed on Main Street

January 15, 2020
Maple Shade Police Chief, Christopher J. Fletcher, recently announced, the installation of three pedestrian crossing signs on Main Street (CR537) in Maple Shade. 
The signs are deployed at the pedestrian crossings at Chestnut Ave, Maple Ave, and just East of Lippincott Ave near the Acme Market. 
This pedestrian safety initiative is a joint project between the Maple Shade Police Department Traffic Safety Bureau and the Burlington County Traffic Engineer's Office. The signs will be maintained by the Maple Shade Police Department with assistance from the Maple Shade Road Department. 
Please report any problems with the signs by calling 856-234-8300, live operators are available 24 hours a day. 
For more information on pedestrian safety in NJ click here https://www.nj.gov/oag/hts/pedestrian.html
Maple Shade Township Receives Grant
December 2020
The New Jersey Department of Transportation announced the award of a $231,500.00 grant to the Township of Maple Shade.  The grant award, as part of the NJDOT FY2020 Municipal Aid Grant Program, will be combined with a previous NJDOT award in the amount of $250,000.00 and will assist the Township with the rehabilitation of roadway on Collins Lane & N. Coles Road project.  The total cost of the resurfacing project is estimated to be approximately $500,000.00 and will include paving, concrete work, curbs, utility infrastructure and stormwater run-off drainage improvements.  This project will be scheduled in the Township 2020-2021 Road Improvement Program.
Since 2018 the Township of Maple Shade has applied for many grants, in an effort to generate additional revenue for municipal improvements without placing the burden directly on the residents.  With the latest announcement, the total value of grants awarded is approximately $751,500.00.
December 4, 2019
The grand opening of the new Wawa located at 2801 Rt. 73 South in Maple Shade, NJ took place on Wednesday, December 4, 2019.
Maple Shade Township Manager, Susan Danson, Township Clerk,  Teri McVeigh, Mayor Charles Kauffman, Councilman Lou Manchello, Deputy Mayor Claire Volpe attended the grand opening.  
A "hoagie building" competition was held where teams from the Food Bank of South Jersey, Maple Shade Fire Department and Maple Shade Police Department participated to see who could build the most hoagies in three-minutes.  Wawa concluded the event by presenting checks on behalf of the winning and runner-up teams for $1,000 to the charities of their choice.  
Congratulations to the Food Bank of South Jersey for winning the competition although each team was a winner with the donation made to their charities.